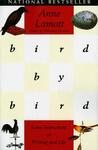 Bird by Bird: Some Instructions on Writing and Life
by
Anne Lamott
My rating:
5 of 5 stars
I loved this book! Lamott doesn't fool around with vague instructions meant to show how smart she is or narrow prescriptions which work for only a handful of people. She's honest and funny and open about writing, careful to tell would be authors about the difficult toll the writing life takes on the brain and emotional well being, but also about the worthwhile joys of the craft. Along the way, she provides wonderful insight into the inventive mind, so that this book might even be good for people who are not interested in being the next literary sensation.
There are a few things Lamott tells readers that might seem to be in nearly every book of its genre (write every day, don't stress over the quality of first drafts), but her warmth and humor make these points much more than mere directives or mantras. There are also suggestions which need careful consideration (be vindictive, but be kind, for example), and may make the budding scribe more than a typist. Further, while many writers bore the reader with long winded stories about
their
successes (the main reason I stopped reading articles and books about writing), Lamott's illustrations are brief and filled with the kind of pathos that makes them worth reading for more than lessons.
Bird by Bird
is concise and witty and fun, like a good workshop should be, but rarely is. It ought to be on the bookshelf of every person who cares about art and the creative life.
View all my reviews